A 4-H project is an area that you want to learn more about during the year. There are projects on just about any topic you would like to study and explore, from art to woodworking,  computers to rabbits, or clothing to small engines.
You will learn more than "subject matter" as you complete your projects. You will learn many "life" skills that you will use every day of your life, such as, understanding yourself, communicating, problem solving, decision making, and working with others.
What are possible 4-H Projects?        4H Project Guide  
YQCA 2023-2024:
Youth who show animals at the Lafayette County Fair need to complete the Youth for the Quality Care of Animals (YQCA) certification.  This includes dairy, beef, swine, sheep, goats, poultry, and rabbits.  Certification classes are open to all youth ages 8-18.  Youth over 19 years old must complete YQCA certification online at yqcaprogram.org
YQCA training is scheduled for:
Thursday, December 28, 2023 at 10:00a.m. located at the Lafayette County Multi-purpose Building – 11974 Ames Rd. Darlington, WI 53530. 
Youth MUST COMPLETE the Pre-Test PRIOR to attending class on December 28th.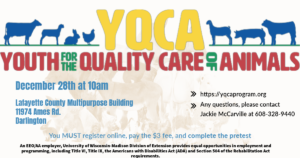 Previously Recorded Project Talks (from County Ambassadors)
4-H Ambassador Project Talks
National 4-H Webpage
(http://www.4-h.org)

COOL Paper for use at the Lafayette County Fair Sheep Weigh-ins