WISCONSIN STATE 4-H Calendar:
4-H Calendar
Local & State Opportunities/Contests/Events:
Exploring the Secrets of 4-H
Registration is officially LIVE! 
Exploring the Secrets of 4-H
Registration DEADLINE – Friday, June 9, 2023!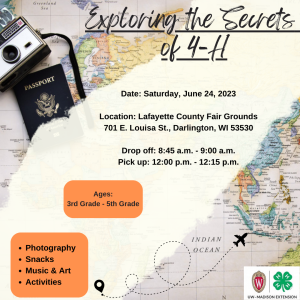 Blasting Off into 4-H – Cloverbud Discovery Day
Registration is officially LIVE!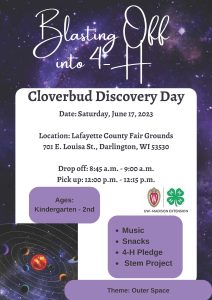 Fibers for our Future – Weaving Series
Explore your Sparks in Art & STEM as we invite youth in grades 5 and up to join us for a 3-part series on Tuesdays; May 9, 16, & 23 at 6:30PM via Zoom.
REGISTER for the Fibers of our Future-Weaving Series here:  https://go.wisc.edu/u9nz46
Sessions include Weaving Patterns, Weaving Materials, and Weaving Light and were developed by Helloloom! Creator and professor, Marianne Fairbanks, UW-Madison STEM outreach specialist, Tom Zinnen, and 4-H Program Educator, Rachel Hart-Brinson.  Each session will build on the previous one, but you will have access to a recording to watch the ones you may have missed.
**Supplies will be sent to you or your County's Extension Office after registration CLOSES April 27.  Thanks to a Baldwin Grant, there is no cost for this program.  You do not need to be a registered 4-H member to participate.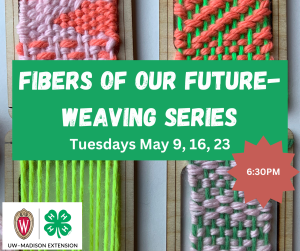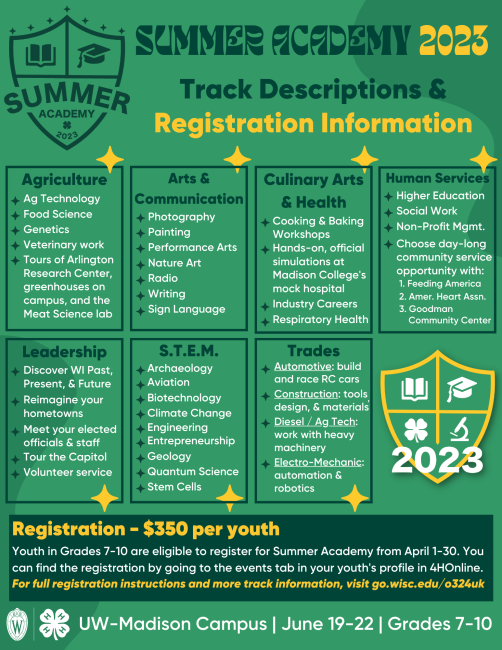 Photography Challenge – Lafayette County Youth
Get the opportunity to showcase your talent! Upon submission, 12 photos will be chosen and enlarged to display in our office space! Showcasing Outdoor Seasons, Agriculture (Livestock, Machinery, Landscape), 4-H Related, Rural Lafayette County.
Details: Submissions need to be sent in a JPEG form, photos need to be clear, and in their original state. Photos may be Color, Black and White, or Sepia.
Photos will NOT be considered for submission, if: Panoramic, No added objects into the photo, No Distorted (rearranged, reversing, removal of objects), and No clipart
End of submission is Friday, May 5, 2023. Please include the photo caption, along with the entrant's name! Submit photos to brandi.kent@wisc.edu 
By entering the challenge, entrants agree that any photos submitted can be used by The Lafayette County Extension office for enlargement and showcasing in our office space.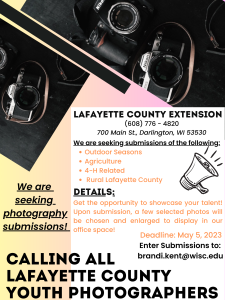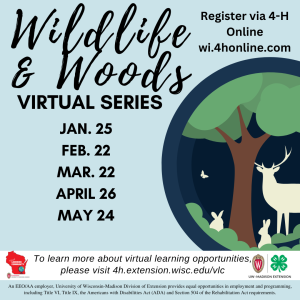 ---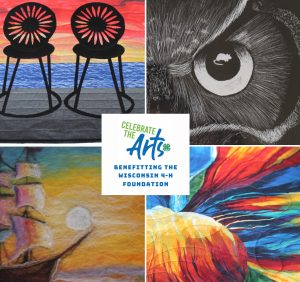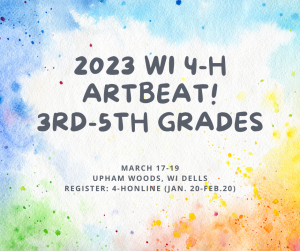 REGISTER EARLY!! ONLY 120 spots available.  Registration opens JANUARY 20 and runs through FEBRUARY 20, 2023.  Fee: $125/youth camper and $75.00/adult 
Iowa & Lafayette County "DAY IN THE ARTS" ~ March 19th ~ 1:00 p.m.