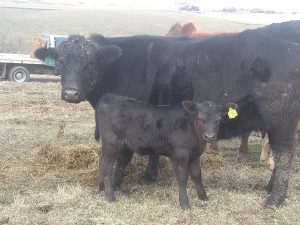 Cow-calf production presents an unique opportunity to manage soil, crops, and animals with the purpose of harvesting sunlight and rainfall through the soil and crops to produce a final meat product, beef.
Due to rising feed ingredient prices and an evolving cattle inventory situation, the current dynamics of supply and demand within the beef industry are unique! Packers continue to work through a back log of fed cattle and feedlots are experiencing shortages of feeder cattle due to drought in parts of the country.  Because of these dynamics, Extension has provided an updated spring feedlot projection tool to assist with decision making.  These projections are based on the available information as of March 12, 2021.  The current market volatility demands the use of a detailed marketing plan to assist with buying and selling decisions.  Extension encourages cattle producers to plug their own numbers into these tools to help ensure a reliable level of accuracy.
Project Collaborators:  Dr. Brenda Boetel, Ryan Sterry, Amanda Cauffman, Dr. Dan Schaefer and Bill Halfman
ATTENTION:
Check out the following BQA assessment link to learn more about a national research opportunity available for WI beef producers to participate!  
2021 BQA Cow-calf Assessment
Beef Herd: Early Season Management
https://fyi.extension.wisc.edu/wbic/2019/04/26/pre-breeding-nutrition-considerations-for-cows-that-have-struggled-this-winter/
Body Condition Scoring in Beef cattle
https://lafayette.extension.wisc.edu/files/2019/05/BCS-in-Beef-cattle.pdf
Podcasts: